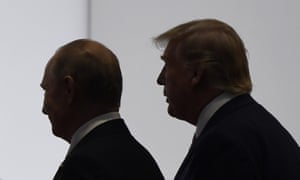 David Ignatius at the Washington Post is one of several op-ed columnists to tackle this story, in an overnight piece asking "Were Trump's aides too afraid to tell him about the Russian bounties?". He writes:



A basic truth about Russian President Vladimir Putin, which President Trump evidently doesn't understand: Putin is in the payback business. He believes the United States destroyed his former country, the Soviet Union. He likes the United States to feel pain, in Afghanistan and everywhere else.

Trump has his own, much rosier take on Putin. And I can't help wondering whether that explains why, assuming his account is true, the American president was never briefed about intelligence reports early this year that Russia was offering bounties to Taliban fighters to kill U.S. and coalition troops in Afghanistan.
In the piece, he examines how Russian policy shifted in the last couple of years from allowing the US to operate freely in Afghanistan, to seemingly helping the Taliban. And Ignatius finishes with a damning indictment of the president.



Trump is an obstacle to good policy. Either people don't tell him the truth, or he doesn't want to hear it. Whichever way, he's defaulting on his most basic responsibility as commander in chief.
Read it here: Washington Post – Were Trump's aides too afraid to tell him about the Russian bounties?
Tom McCarthy was reporting for us in New York in the early hours about the new claims surrounding the mystery of whether Donald Trump was briefed about Russia offering bounties for attacks on US troops in Afghanistan.
He explains how multiple US media outlets have claimed that Donald Trump was given a written briefing months ago about the intelligence.



The New York Times quoted two sources as saying details were included in a daily intelligence briefing the president received in late February. CNN said an official with direct knowledge told them it was included in the briefing – a written document – briefing "sometime in the spring".

Senior White House officials were aware as far back as early 2019 and the intelligence assessment was included in at least one of the president's written daily briefings, the Associated Press reported, according to multiple officials.
There has predictably been strong reaction on social media to the reports from US officials and politicians. It is believed that Trump prefers oral briefings several times a week rather than to read the daily written document prepared for US presidents.
You can read Tom's full report here: 'Russian bounties' intelligence was in Trump written daily briefing – reports
Good morning and welcome to our live US politics coverage for Tuesday. Here are some of the key points from yesterday and overnight, and what we are expecting today
The president's diary is empty today save for his intelligence briefing at 3:30pm this afternoon. Donald Trump maintains he didn't get briefed earlier in the year on the Russian bounty issue – reports say otherwise
Late last night the White House put out a statement praising the Supreme Court for rejecting the appeals of four death row inmates whose executions have been scheduled for the coming weeks. These would be the first federal death penalties carried out since 2003. The Supreme Court also upheld abortion rights in Louisiana yesterday.
The number of people currently in hospital infected by coronavirus is reported to be rising fast in Arizona, California, Georgia, Nevada, Montana, South Carolina and Texas. Arizona is ditching plans to re-open the economy.
Jerome Powell, the new chair of the Federal Reserve, is expected to speak to Congress today about the painful road to economic recovery after the impact of Covid-19.
I'll be running this live blog for the next couple of hours – you can get in touch with me by emailing martin.belam@theguardian.com