Latest weekly figure of 9,864 is highest since test and trace began at end of May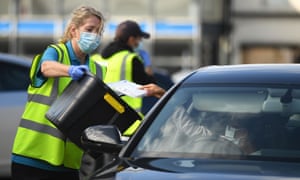 The number of people in England who tested positive for coronavirus rose by 43% in a week, according to the latest test-and-trace figures, providing further evidence of a rise in infections.
The NHS statistics show 9,864 new people tested positive in the week ending 2 September, the highest weekly number since test and trace was launched at the end of May.
The proportion of close contacts who were reached and asked to self-isolate dropped to a new low of 69.2%. While the number has been relatively stable since mid-July, it stood at 91.1% when the programme first launched.
James Naismith, a professor of structural biology at the University of Oxford, said the figures suggested there was a real increase in infections, not just that more testing was yielding more positive results.
"We are nowhere near the exponential growth seen in March, but the virus is building; this is worrying given winter is coming," he said. "It is disappointing that satellite test centre delays are growing, this suggests that this part of the testing system is starting to show very significant strain. Information is only useful if it is rapid enough to do good."
He also said that given "there seems to be no lack of demand for testing", it was puzzling that testing capacity was said to be 2.5m a week, while the number of tests being processed was 1.3m a week. Ministers have said the problem with testing lies with laboratory capacity.
Boris Johnson, who announced plans for "moonshot" mass testing on Wednesday, had previously pledged to get coronavirus test results delivered within 24 hours by the end of June. The latest figures show that remains some way off.
While the proportion of results from in-person tests received within 24 hours was up on the previous week, it was still just 61.9%. When including results from home test kits and satellite test centres the figure was 29.7%.
Dr Daniel Lawson, a lecturer in statistical science at Bristol University, said: "We must get the infection number per infection [R number] below one to prevent a large second wave which will be impossible to prevent reaching vulnerable populations.
"Proper widespread testing – not just of suspected cases but of the general population – is key to catching outbreaks before they get out of control, though may be being implemented too late.
"Track and trace is also important. Although testing time at testing centres and mobile testing units is stable, home test kits and satellite test centres are dangerously slow – taking over three days on average – which will prevent proper test-and-trace response."
Dido Harding, the interim executive chair of the National Institute for Health Protection, said: "We are doing more testing for the British public than other comparable European countries and we are adding thousands more tests a day. The figures show we have seen a significant increase in the demand for tests, but given the concerning rise in cases over the last couple of days, it is still vital for anybody who has symptoms to book a test and follow the advice you receive if you are contacted by NHS test and trace."