Trump, Pence, Biden and Harris to take part in 9/11 memorial ceremonies
Police officers charged in death of George Floyd will appear in court
914 Covid-19 deaths and 37,786 new cases reported yesterday
Sign up for our First Thing newsletter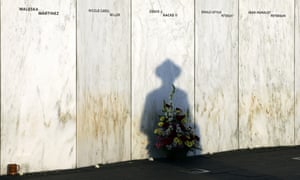 Kremlin denies any Russian state attempts to interfere in US election
You might suspect that this is one from the "Well, they would say that, wouldn't they?" files, but this morning the Kremlin has denied that the Russian state is attempting to interfere in the US elections.
Kremlin spokesman Dmitry Peskov said Russia has no intention of meddling in other countries' internal affairs and that Russia does not like it when others interfere in its affairs.
The moves follows Microsoft warning that hackers from Russia, China and Iran have launched unsuccessful attacks on people associated with both major presidential campaigns.
"The activity we are announcing today makes clear that foreign activity groups have stepped up their efforts targeting the 2020 election as had been anticipated," Microsoft said in a statement yesterday.
'We haven't abandoned you' firefighters tell evacuated communities in Oregon
Here's some grim footage of the damage that is being done in Oregon by the wildfires. The drone flyover of Eagle Point shows flattened residential areas. At least three people have died in the state.
The latest reports from the Associated Press confirm that an estimated 500,000 people – that's more than 10 percent of the 4.2 million people who live there – have been forced to evacuate.
Inmates were being moved from a women's prison less than a mile from Interstate 5 in Portland's southern suburbs "out of an abundance of caution," the Oregon Department of Corrections said.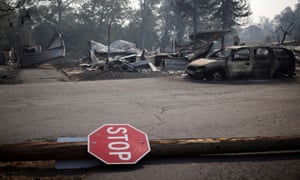 With two large fires threatening to merge, some firefighters in Clackamas County, which includes Molalla, were told to disengage temporarily because of the danger. Officials tried to reassure residents who abandoned their homes, and law enforcement said patrols would be stepped up to prevent looting.
The local fire department said on Twitter: "To be clear, your firefighters are still working hard on the wildfires in Clackamas County. They are taking a 'tactical pause' to allow firefighters to reposition, get accountability & evaluate extreme fire conditions."
"We haven't abandoned you," the fire officials said.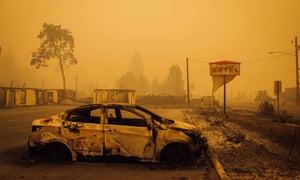 The AP spoke to residents in the small Oregon town of Phoenix, near the California state line along Interstate 5. One was Jonathan Weir, who defied evacuation orders, even as flames 30 feet (9 meters) high shot from trees. Fearing for his life, he drove his car to the entrance of a nearby mobile home park, where his tires began melting. His home was destroyed as the fire hopscotched through the town of 4,000 residents.
"There were flames across the street from me, flames to the right of me, flames to the left of me. I just watched everything burn," Weir told a reporter.
The Federal Emergency Management Agency estimated that 600 homes were burned by the fire that started in Ashland and tore through Phoenix.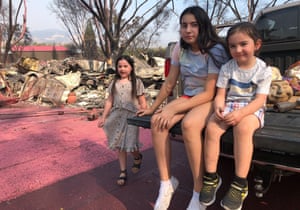 Artemio Guterrez spoke to reporters too. He was stood helplessly next to his pick-up, surveying the rubble of his mobile home. His children sat quietly in the truck bed and waited for him to salvage what he could. He was able to find a ceramic pot with a smiley face on it, some charred miniature houses from a Christmas-themed village and a cross that formed when two pieces of glass melted together.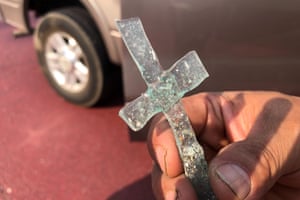 Guterrez, a single father of four, had been at work at a vineyard nearby when he saw thick smoke spreading through Rogue River Valley. He raced home just in time to snatch his kids from the trailer park where they live alongside dozens of other Mexican families. They got out with just the clothes on their back.
"I'm going to start all over again. It's not easy but it's not impossible either. You have to be a little tough in situations like this," said Guterrez, who had just returned from his mother's funeral in Mexico. Entire mobile home parks with many units occupied by Mexican immigrants who worked in nearby vineyards or doing construction were reduced to ash in Phoenix and nearby Talent.
"We're kind of like a family. We've known each other for years, since we came here or even before then," Guterrez said of his neighbors at Talent Mobile Estates. "We're living day by day."
Good morning, and welcome to our live coverage of US politics on a solemn day. The nation observes the anniversary of the 9/11 attacks amid the ongoing coronavirus epidemic and the raging wildfires on the west coast.
President Donald Trump will take part in a ceremony at the Flight 93 Memorial in Shanksville, Pennsylvania this morning. Joe Biden, will mark the day in New York, then travel to Pennsylvania in the afternoon. Mike Pence will also be in New York, while Kamala Harris delivers a remembrance day speech in Virginia.
Oregon fires have forced 500,000 to evacuate as blazes across the west coast kill 15. Unprecedented fire conditions have burnt more than 900,000 acres and firefighting resources are stretched thin in three states
Yesterday, there were 914 new coronavirus deaths and 37,786 new cases reported in the US. That takes the total number of Covid-19 cases to 6,397,227, with 191,789 deaths nationally. Trump claimed the US is 'rounding the corner'.
Biden branded Trump's handling of the coronavirus pandemic as "almost criminal". Trump acknowledged he had played down the dangers of the virus to avoid causing a panic – though critics note he frequently stokes fear about crime and illegal immigration.
Bob Woodward has rejected criticism that he sat on the Trump 'deadly' virus remarks that have appeared in his new book.
NFL Fans jeered the moment of silence to acknowledge inequality in the opening match-up.
The police officers charged in the death of George Floyd will appear for their first court hearing in Minneapolis.
Microsoft has warned that Russian hackers are targeting US political campaigns ahead of the election.
Trump will award the medal of honor to sergeant major Thomas Payne at the White House in the afternoon.
I'm Martin Belam, and you can get in touch with me at martin.belam@theguardian.com